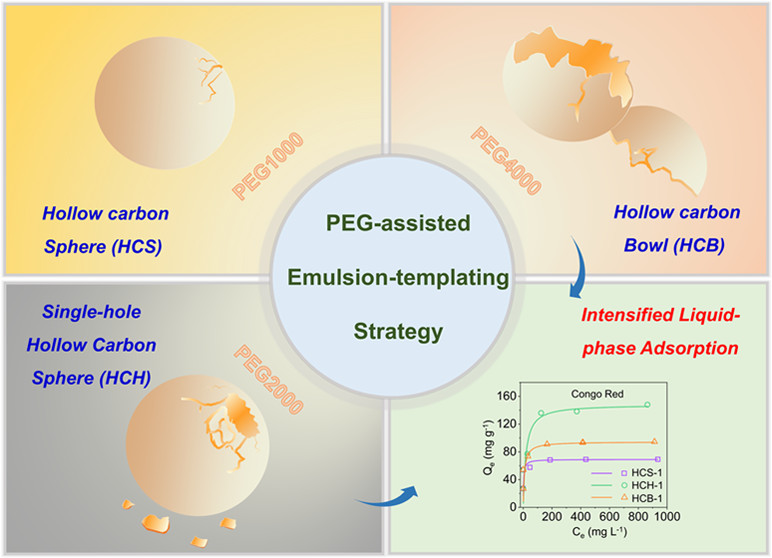 Hollow structures with diverse morphologies and adsorption process intensification. (Image by YU Qun)
HCH have the integrated advantages of a hollow cavity and an opening hole in the shell. "In fact, it is challenging to create just a single-hole in the shell of hollow structured nanomaterials," said YU Qun, doctoral candidate at QIBEBT.
The research team developed a poly (ethylene glycol) (PEG)-assisted emulsion-templating strategy to synthesize the HCH. The strategy involves two steps, i.e., hydrothermal process and pyrolysis. During hydrothermal synthesis, the PEG molecular weight was changed from PEG-1000, to PEG-2000 and to PEG-4000, and the samples of hollow carbon structure with a closed shell (HCS), a single hole in the shell (HCH), and bowl-like shell (HCB) have been synthesized after pyrolysis.
They discovered that the PEG molecules in the emulsion system could be used as a reverse demulsifier (highly related to the PEG molecular weight) to induce the formation of hollow structures with or without a hole in the shell. Moreover, the diameters and hole sizes of the hollow structures could also be tailored.
According to the team's previous study, the void-confinement effects induced by void space can alter the hydrodynamics of the intermediates, and correspondingly change the catalytic selectivity during hydrogenation reactions.
The adsorption capacities and kinetics of HCS/HCH/HCB towards these adsorbates with different molecular sizes were evaluated. Experimental results revealed that the opening-hole hollow structures, which could promote mass transfer of large molecule (e.g., CR) to increase the adsorption rate and simultaneously induce void-confinement effect to enhance the adsorption capacity. "Our discovery in this adsorption study points to a new direction to reveal void-confinement effects," said YU Qun.
"We also envision that such PEG-assisted strategy can stimulate further research in material synthesis, and the HCH can be used not only for fundamental study but also for practical application in adsorption, catalysis and controlled release," said Prof. WANG Guanghui from the QIBEBT.
The study was supported by the National Natural Science Foundation of China, QIBEBT and the DNL Cooperation Fund and Zhejiang Provincial Natural Science Foundation of China.